About Fleet Management Software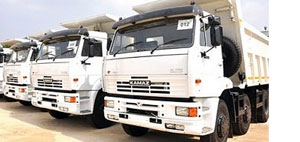 Our Fleet Management Software makes easy to handle with freedom from paper work, ideal for all types of fleets.
Save time
FMS helps you spend less time on fleet-related tasks and more on your business. It couldn't be easier to access data, log records or run reports.
Save money
FMS pays for itself and much more. Easily identify inefficient vehicles and ensure that you never miss a scheduled maintenance.
Collaborate
Fleet operations are all about shared responsibilities. FMS comes with unlimited users, so you can easily collaborate with everyone involved.
Manage from anywhere
Access your FMS account from any internet capable device. Quickly enter data on the go with our mobile version.
Make better decisions
Great data is your key to smart decisions. With powerful reporting tools and analytics, we completely remove guesswork from the equation.
Enjoy great support
Our customer service is the best in the business. We values user feedback, and provide a number of ways for you to get in touch.